Angela, Christopher & Jairo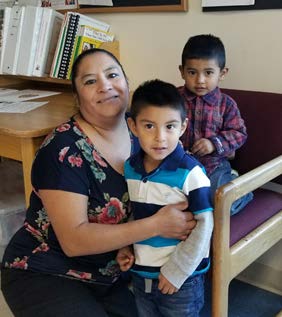 Angela and her four children were living in a single rented room, and it was too crowded. "I knew that I had to go to work so I could earn enough money to rent an apartment for my family," she said.
With two young boys not yet in public school, she turned to Beck Child Start, a Head Start child center partially funded by First 5 Solano. Her son Christopher was enrolled in Early Head Start, while Jairo was enrolled in state preschool.
After seven months at Beck, she noticed her boys were more helpful, polite, and independent at home; they also seemed happier.
"They learned new ways of asking for things instead of telling me what they want," Angela said. "They now clean up after themselves at mealtimes."
The boys also learned academic skills. After seven months in the program, Jairo recognized letters, colors, and shapes, and Christopher could name animals and colors, as well as recognize emotions.
"I trust all of the teachers with my children, and know that they are well taken care of," Angela said.
Angela's short-term goals are to learn English and computing skills. "Since my boys have been attending Beck, I have been able to get a job, and I have enrolled in school so that I can learn English," Angela said. "My future goal is to open up my very own business, like a taqueria or a restaurant."